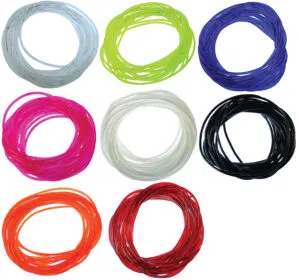 Standard
8
$2.60 – 2.60
Body stuff is a 0.059″ solid, round, body material used for nymph bodies or ribbing on stones.
Any color of tying thread you use as an under wrap will show through and the color is picked up by the glitter.
With a bit of warming and working the Body Stuff through your fingers, it can be stretched and thinned down to tie smaller sizes of flies.
10501

Body Stuff Standard Clear
10503

Body Stuff Standard Fluorescent Chartreuse
10504

Body Stuff Standard Fluorescent Orange
10507

10509

Body Stuff Standard Black
10510

Body Stuff Standard Blood Red
10512

Body Stuff Standard Fluorescent Pink
10514

Body Stuff Standard Night Glow